Wednesday, December 19th, 2007
---
10:59 pm
- So It's Come To This
Some of you may have noticed by now that I haven't posted anything for almost two months now. I can assure you that this is not a deliberate act. I had hoped to get a couple more stories done before the end of the year, but when that became unlikely, I wanted to finish just one more before the end of the year. Now I've realized that this is also not going to happen, so unfortunately I don't get to end on some kind of cliffhanger.

Lately, I've been rather uninterested in writing anything and I haven't much inspiration to write nor have I felt any evident purpose in it, which has let me to cast the stories aside in order to be distracted by some other activities. Therefore, I feel it would be best if I take Yes it Does off of my agenda for the time being and take a break from it and hopefully regroup with more ideas and drive to actually get something accomplished. Call it a sabbatical, if you will. I'll come back to it probably next year, finally finish off the current story I started, and continue where I left off. Thank you for being so understanding as you wait in eager anticipation for a few moments before completely forgetting about it for a long time. You're the best!
Monday, October 22nd, 2007
---
6:14 pm
- 265. The Sauntering: Some Stuff Happens
Yes it Does        Part CCLXV
The Sauntering: Some Stuff Happens
---
The next morning, the trio awoke and quickly began gathering the supplies and carefully arranged them in the duffel bag. With everything cleaned up at the campsite, Lyman slid his arms through the loops of the duffel bag handles until it hugged his back. With Tim carrying the map and the compass, and Frank Stallone taking charge of the loaf of bread, they continued on their merry way.

It had been nearly 24 hours since they left Matt's house, and since they had hardly eaten anything since then, they were naturally beginning to feel quite famished. Rather than let the thought of food overwhelm them, they kept up the chatter between themselves, discussing all matters of humanoid endeavor and the folly of mankind, like trapeze acrobatics and Chia pets. The conversation over Chia pets ended up being rather unfortunate because all it did was remind them of freshly tossed garden salads and Caesar salads and chicken salad sandwiches and tuna salads and macaroni salads and fruit salads and overripe bananas and slowly rotting watermelons and mashed chickpeas and charred sausages and horse jerky and pigs feet and cow tongues and lamb eyeballs and sasquatch testicles. Hell, even wooden alphabet blocks started to sound pretty tasty after a while.

In an effort to divert the conversation, Lyman decided to climb a tall oak tree they had come upon to see if it was possible to catch sight of some nearby town or highway. He climbed up nearly sixty feet before he could begin to see the open landscape.

"Be careful up there," Tim shouted up to him.

It was at that moment that Lyman realized he should be careful. He began to slowly and nervously pull himself up further, branch by branch. He was at such a height that the branches were becoming short and flimsy. Around seventy feet, Lyman clung to the narrowed trunk of the tree, and decided to end his ascent. Before heading back down, he took in the view, noticing no man-made landmarks, but only forest, a few open grassy areas, and many wavy tree-covered hills. Lyman then began to carefully extend his feet to the lower branches as he scaled down the height of the tree. Around the 25-foot mark from the ground, Lyman dangled his feet down a five to six foot gap in branches in which to reach the lower one. After placing both feet on the lower branch, Lyman quickly began to bend down to grab it with his hands to steady himself. As he did this, both of his feet slipped off and he went plummeting towards the ground. Luckily, eight feet before he would have hit the bottom, a large branch caught him right between the legs.

"Oh my God! Lyman, are you okay?" Frank Stallone asked.

His face reddened and in a strained voice he said: "It's alright. My crotch broke the fall."

"Seems more like the fall broke your crotch," Tim said snidely.

Lyman lifted his one leg over the side of the branch and hung from it by his hands before letting go and dropping to the ground where he laid for a little while.

"Did you see anything?" Tim asked.

"Just more trees. Nothing spectacular." Lyman continued to lie on the ground recovering from his association with the tree. Tim and Frank decided to lay down next to him while they waited.

"You know, I may not be very familiar with this area, but I could have sworn there was a town somewhere around here," Tim thought out loud. "If we haven't passed it, we should be headed in that general direction."

"No there's not," Frank Stallone interjected. "You don't really know what you're talking about. We're gonna be in the woods for days. We crossed into a national forest sometime yesterday."

"Well, then, let's get a move on!" Tim said excitedly as he leapt to his feet. He decided to take charge of the duffel bag for Lyman and put it on. He tossed the map and compass to Lyman, and poked and prodded him until he too stood up. When he was up, Tim took off running the direction they had been traveling. Frank Stallone quickly snatched the loaf of bread and took off after him. Lyman grabbed the map and compass, took a few steps, and promptly collapsed to the ground.
---
Monday, October 1st, 2007
---
7:36 pm
- 264. The Sauntering: Promises to Keep
Yes it Does        Part CCLXIV
The Sauntering: Promises to Keep
---
As Lyman finished assembling the "tent," Frank Stallone returned, dragging many long, dead pine tree branches. Lyman began to help him break apart the branches, after which they dug a round, shallow pit in the ground with their hands in which to hold the fire. By now, the sun had vanished below the horizon and the sky had turned dark teal in color. Frank Stallone slowly got a fire started by lighting some very small twigs, some pine needles and a few random leaves with a match from the duffel bag. Eventually, the fire turned into a healthy blaze.

"Success!" exclaimed Frank.

"Hooray! We can do things!" Lyman observed. "Now where is Tim?"

"Where did he wander off to?" Franko asked.

"He's trying to find food, although I'd be hard pressed to say what he could find." At that moment, Tim returned carrying an armload of something.

"Quick," Tim said. "Put a blanket down for me to put these on." Lyman zipped up the duffel bag and placed it near the fire for Tim to place his findings onto.

"So what did you get?" asked Frank Stallone.

"Mostly some berries I pulled off of a bush, but also a few mushrooms. Go ahead and dig in."

Lyman and Frank Stallone picked up a couple of Tim's berries and held them near the fire. "Tim, these aren't berries," Lyman said. "These are really big ladybugs."

"Oh really?" Tim said, obviously disappointed. "That explains the crunchiness."

"You already ate some?" asked Frank.

"Well I couldn't tell what they were. I could barely see!" Tim sat down on the ground next to the fire and the duffel bag. He picked up a few of the ladybugs. "They're not all that bad." He popped them into his mouth. "Don't be so picky."

Frank Stallone and Lyman looked hesitantly at each other before each grabbed a small mushroom and a small handful of ladybugs. After situating themselves around the fire, they inspected their meal for a minute before entering the chewing phase.

"Blechh!" Lyman spat out the bug into the fire. "This is awful. They're not even dead! Look, they're crawling all over the duffel bag!"

"Well, good luck finding your own food," Tim retorted.

"Well, why don't we just..." Frank Stallone trailed off, motioning towards Tim.

"Why don't we what?" Lyman asked.

"You know, why not....the...."

"The what?!" Lyman insisted.

"The bread, you dummy. Let's just share some of the bread. I'm hungry. You're hungry. So let's dig in." Frank Stallone grabbed the loaf of bread from where Tim was sitting and put it in his lap.

Lyman glared intensely into his eyes. "Excuse me?"

"Why not," Frank Stallone responded. "It is food, after all."

"Do you not get it," Tim said. "This is what our mission is all about. You eat that bread and you may as well just shoot yourself in the foot."

"Tim, it's not even a matter of what we've set out to do," Lyman interjected. "The principle of our mission is to ensure the well-being of our friend's breakfast. Perhaps you've forgotten that your good friend, Mr. Yes it Does, is incapable of completing his nine-course breakfast. Are you going to deprive him of this, the most important meal of all time?"

Frank Stallone sat silently for a moment, slowly fondling the loaf of bread and the long plastic bag containing it. "I suppose you're right," he said. "And if we were to start nibbling on it now, what's to stop us from doing it again tomorrow or three nights from now."

"Exactly," said Lyman. "And we still have quite a ways to go."

"In fact, why don't we make a pact," Tim said as he stood up and moved in between Lyman and Frank Stallone. "We should vow to preserve, protect, and defend this loaf of bread."

"A fine idea," Frank Stallone agreed as the three of them each layered their hands on top of each other.

"We do hereby vow," Tim began. "To devote the highest order of our reverence and appreciation for this honorable wheat-based food and pledge to sacrifice all else above it to preserve the integrity of each grain and the appetite of our dear friend, Yes it Does."

"It is agreed," they all said in unison.

"Well, I'm going to bed now," Lyman said. "I'm tired as hell."

The others quickly agreed. So they all urinated on the fire and laid down on the blankets underneath Lyman's makeshift tent with the loaf of bread nestled cozily in between them.
---
Thursday, August 30th, 2007
---
9:39 pm
- 263. The Sauntering: Woodland Waltz
Yes it Does        Part CCLXIII
The Sauntering: Woodland Waltz
---
As they proceeded to proceed, Frank Stallone pulled the compass out of the side pocket of the duffel bag strapped to Lyman's back.

"Okay," said Lyman. "Let's get a move on. Norp street is directly in front of us." They walked across the street and then down the sidewalk running alongside of Norp street until they reached the end of the street, where it turned off into some kind of unpaved, rocky path that led towards the North. Rather than go off in that direction, Lyman, Tim and Frank Stallone chose to plunge into the dense forest that walled off the end of Norp street. Lyman dove in first, brushing the weeds, leafy branches and nets of vines blocking the way. Frank Stallone followed, pushing many branches back so that they would snap back in Tim's face.

"You nerd!" Tim complained.

The three trekkers shuffled along through the forest, which was crowded mostly by pine trees, breaking off many weakened lower branches that had been suffocated by the lack of sufficient sunlight that could no longer reach the ground. They joyously kicked apart many of the tall ferns that they had to plow through.

Suddenly, Tim vanished below the ferns. "Ahh! Ahh! They're pulling me under! Ack!" Lyman and Frank quickly spun around to see Tim on the ground with one leg buried in the soft, dark earth.

"Oh, you must've stepped into a fox hole," Lyman deduced. "I didn't even see that there." Tim tried to lift himself out, twisting his leg back and forth to free it. "That thing's pretty damn deep. Look at you. You're all the way up to your crotch!"

"Yes, I know. Pull me up will you?" Frank Stallone and Lyman each grabbed an arm and tugged him out until he was free and back on two feet. His entire right leg was now coated in dark brown soil and his shoe was filled up with dirt and earthworms. "I am not liking this trip so far."

"Aw, lighten up," Frank Stallone replied. "It only gets better from now on. And besides, think of it this way: your misery is our amusement!"

"Hey! That's true!" Tim realized. "Let's see what else comes our way!"

The threesome kept moving, but nothing happened for the next eight hours as they hiked through acre after acre and mile after mile of dense forestation. Lyman, who was pulling up the rear, finally had to sit himself down.

"Hold on, fellas," Lyman said, slipping the duffel bag off of his back. "I need to rest." Tim and Frank Stallone sighed heavily as they turned around to rest with him. "It's starting to get dark. Why don't we set up a fire here before we lose sunlight."

"Yeah, alright," said Frank Stallone as he set down the loaf of bread, as he had been the one carrying it, and the compass, and went off to gather some broken branches for a fire.

"Why don't we pitch the tent," Lyman said to Tim. They began riffling through the contents of the duffel bag. "You know, it's strange that we haven't actually looked through here yet."

"Well, we were just eager to get started, I suppose," Tim said as he dipped into the bag and pulled out a couple of blankets, a flashlight, a lighter, several boxes of matches, scattered shards of broken glass, and a tube sock. "It doesn't look like there's a tent in here at all. That moron!"

"There's more stuff shoved down at the end," Lyman noticed, pulling a 20-foot length of rope out. "But clearly no tent."

"And no food either! Stupid ass Matt! You deal with coming up with a makeshift tent and I'll go hunt for some makeshift food." As Tim headed off in search of nourishment, Frank Stallone returned with a bundle of wood he had gathered. He then dumped it onto the ground and went to get more.

Meanwhile, Lyman decided to tie the ends of the rope around two trees that were about 10 feet apart, upon which he hung one of the heavier blankets over the top of to try to form something that resembled a tent. However, there were no stakes of any sort to pin the ends of the blanket into the ground, so the blanket had to be left hanging limply like a wilted flower.

"This could potentially really suck," Lyman concluded.
---
Tuesday, June 12th, 2007
---
8:35 pm
- 262. The Sauntering: An Overview of the Mission
Yes it Does        Part CCLXII
The Sauntering: An Overview of the Mission
---
As Lyman and Matt disembraced and Frank Stallone's stomach stopped folding over onto itself, they sat back down at the table and placed the bread in the center.

"So, I suppose we'll head home to get ready to head off to Yes's sometime next Tuesday, perhaps?" Lyman asked.

"I'm not going," stated Franky.

"No, no, you must go now. It is absolutely crucial that you leave now. He's going to need it right away." He started slowly pushing the loaf of bread across the table towards Frank Stallone until eventually it fell into his lap. "There. Now you can take it to Yes. He will love you for this." Lyman gave a knowing glance of resignation to Frank.

Suddenly, the sound of footsteps were heard on Matt's front porch. Matt jumped up and ran to the front door and swung it open. Standing on the front porch with his back towards Matt was a crazy lunatic busily urinating onto Matt's budding crocuses.

"Tim, didn't I ask you to stop doing that. Now zip up and get in the house." Shamed at being caught red-handed once again, Tim hung his head and quietly entered Matt's house. He sat down at the kitchen table with Lyman and Frank Stallone, and began coyly digging his toes into the rug underneath the table.

"Maybe his punishment should be to come with us on the trip," Lyman suggested.

"That's a great idea!" said Matt as he grabbed a rolled-up piece of paper from off the top of the refrigerator. He unrolled it in the center of the table, using salt and pepper shakers to hold down the sides of the paper, which was approximately the size of a place mat. "Tim, you will be in charge of this. This is the map you will be using to guide yourselves." Matt began grabbing things out of his cupboards and closets and cabinets and drawers and shoving them into a duffel bag.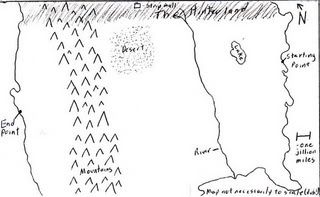 "Holy crap!" said Frank Stallone. "From starting point to end point, we'd have to go, like, 20 jillion miles! And that's not just hyperbole! My truck won't be able to survive a trek that long."
"Well, you're going to have to walk to Yes's anyway. He doesn't have a driveway. Walking is the most logical and efficient way to get there," Matt explained.
"Hmm," Frank thought for a moment. "I was really against going all the way to Yes's for just a loaf of bread, but that was mainly because I didn't want to risk the destruction of my truck. The idea of walking changes this whole thing for me. This is a really good plan!"
Tim looked up at Matt, while scratching his head in confusion. "So, Yes needs a loaf of bread? I'm not walking all the way across the fucking country for that."
"He's run out, though," Lyman said. "He needs it for his breakfast."
"Oh. In that case, I'm in. I would certainly want you guys to do the same thing for me. So, when do we start?"
"Right now. I hope you've got everything squared away back home, because you'll probably be walking for the next several months." Matt, who was the one speaking, gave the rather bulky duffel bag to Lyman. "You'll be able to carry it on your back by putting your arms through the straps on the side." Lyman stood up as Matt helped him put it on. Tim and Frank Stallone also stood. Tim grabbed the map and rolled it back up, while Matt began to forcibly push them out of his house and onto the front porch. "No time like the present to begin your journey. Off you go. Just follow Norp street all the way to the end and then let the map guide you in a westerly direction from there. I also stuffed a compass in the side pocket of the duffel bag for your convenience. Good luck!"
Before the three could say anything, Matt scurried back into his house, very audibly began locking the door, and pulled the shades down on his windows.
"Well, okay," said Lyman. "Let's get movin'!"
They all tripped as they walked down the porch steps.
---
Tuesday, May 15th, 2007
---
7:48 pm
- 261. The Sauntering: A Friend in Crisis
Yes it Does          Part CCLXI
The Sauntering: A Friend in Crisis
---
Lyman stretched out lazily, sunning himself as he lay amidst a vast field of wheat. His body matted down a human-shaped layer of wheat underneath, as his eyes squeezed shut to block out the bright sun hanging in the clear blue sky. His arms and the back of his neck tickled from the movement of the slowly crushed wheat stalks. A slight cool breeze brushed the sun off of his face momentarily, while the buzzing of cicadas sounded in the far distance.

"Yes does."

Lyman perked up. He raised his head and leaned his body forward, while shielding his eyes from the sun's glare. He noticed a black spot in the distance through the standing wheat stalks, so he stood up to get a better look. About fifty feet away from him was his good friend Yes, who stood among the wheat waving at him.

"Hey, Yes! What's the good word?" Lyman shouted to him.

Yes didn't respond, but rather continued to smile and wave at him. Suddenly, out of nowhere, a bolt of lightening shot out of the sky and touched down no fewer than a couple of feet away from where Yes was standing. Not phased by this at all, Yes continued to stand where he was, smiling aimlessly and gazing at Lyman. Lyman, however, was alarmed, and even more so when the lightening bolt started a fire, which quickly formed a ferocious circle around an apparently oblivious Yes.

"Yes! Get out! Get out of there!" Lyman screamed while running towards him. Yes didn't move as the fire erupted and began to consume large swaths of the wheat field. He disappeared from Lyman's sight as the fire and smoke filled the air. Lyman ran into it to push Yes out through the other side when suddenly...

-------------------

Frank Stallone shoved him off of his bed. "Get up, you nincompoop," he said. "Your cell phone has been ringing for the last half hour."

Lyman rubbed his eyes and got to his feet. The sound of some dumbass TV show theme song wafted from the cell phone, as Lyman picked it up and flicked it open to answer it.

"Hello?" he grunted.

"Hey, Lyman. It's Matt. Get down here right away. I have an emergency job for you which we must tend to post haste. End of call."

"Huh?" Lyman replied. "What is this?" It was too late. Matt had hung up. "Damn. I guess I have to go over there. Hey Frank. You've gotta give me a ride over to Matt's He's had another hissy-fit or something."

"Sure, I'll give you a ride," said Frank "But only if you spit shine my shoes."

"Okay," Lyman agreed. So after Lyman spent 20 minutes squirting loogies all over Frank Stallone's shoes and socks, they hopped in Frank's battered pickup truck and headed over to Matt's house. Traveling across the bright green countryside peppered with houses and apple orchards, Frank Stallone's truck unleashed rusted chunks of tailpipe onto the paved roadway as they went along, taking out a couple of mailboxes while they were at it.

When they arrived at Matt's house and pulled into his driveway, they saw Matt nervously pacing around on the front porch while biting at his fingernails.

"I think this could be pretty serious," Lyman said as they got out of the truck.

"Thank you for coming so quickly," Matt said. "Come on inside and we'll talk." Lyman and Frank Stallone followed Matt into the house, where he led them into the kitchen and had them sit at his shoddy, wooden breakfast table. "Fellas," Matt said solemnly, looking squarely into Lyman's eyes and then Frank's eyes. "I don't quite know how to say this, but it seems our good friend Yes..." He paused as his voice began to waver. A large tear rolled out of the corner of his eye. "You see, Yes was trying to make breakfast this morning. You know, just his usual breakfast. He didn't have any trouble with the milk or the orange juice. The cereal was fine and so were the eggs. The cheese & mushroom omelet was in good order, as were his waffles, bacon, muffins, sausage rolls, lemon meringue pies, raw oysters, and rat gut and seahorse soufflés. But it was..." Matt began to well up with tears again. He wiped them away with his shirt sleeve as he nervously laughed it off. "Sorry, guys. This is tough."

"It's okay," said Frank Stallone. "What is it?"

"Yes was going to make some toast, when he checked in the cupboard for the bread." Matt stopped momentarily for a dramatic pause. "There was none. He was out." He covered his eyes with his hands and choked back the sobs. "It's all so sad!"

"There, there," Lyman said, putting his hand on his shoulder trying to comfort him. "He'll be okay. After all, the rest of the food was fine. And we're here to help too." Frank rolled his eyes at Lyman.

Matt raised his head and placed his hands on the table. "I'm so glad to hear you say that, because I need you guys to deliver a loaf of white bread to Yes. He would love it if you did that for him." Matt got up to get the loaf out of his pantry.

"Doesn't Yes life on the other side of the country?" Lyman asked.

"Well, yeah, but..."

"Oh, this is such bullshit!" Frank Stallone exclaimed, letting his hands smack down on the table.

"No, we'd be happy to do this for him. Because we care," Lyman said giving Matt a hug while Frank Stallone began to dry heave.
---
Comment: I'm not sure how to format entries to allow for indenting paragraphs and such, so I broke up the paragraphs as you see it to make it easier to read, although I'm not pleased with how it looks. If it's possible to change it, I will, but who knows.
---
Thursday, April 26th, 2007
---
6:48 pm
- 260. Biography Spotlight: Yes it Does
Yes it Does          Part CCLX
Biography Spotlight: Yes it Does
---
Birth: Yes it Does was released into the air as a spore on January 4, 1897. He became rooted in the ground in Oklahoma City, Virginia on March 31, 1899, and emerged from the resulting pod on June 24, 1926.

Family: Much of Yes's family has been mentioned in past stories somewhere, but for those of you unaware, his mother is Be My Guest and his father is Kiss My Ass. Both of them are still alive and living in a cardboard house near Mount St. Helens. Yes's two siblings, I'll Kill You (a brother) and I Hate You (a sister), were divorced earlier this year after getting married to each other on a dare four years ago.

Goal in Life: To ask the nice lady next door to shut her dog up.

Favorites: Food- Nipples
Yes it Does™ Character- Yes it Does
Onomatopoeia- Slurp
Scent- Moldy bread covered in rat guts, rotten eggs, sweat, regurgitated motor oil, ass juice, and lemon-scented dish soap

Relations with Other Characters: B. Hemoth- Ordinary
Matt- Better since they began swapping saliva again
Lyman- Only good when Yes treats him like crap
Tim- Strained because of a power struggle regarding ketchup and catsup

Other:
As the primary character of the series, the success of the stories lies squarely on Yes's shoulders. He has endured many hardships, caused many hardships, and even served some highly publicized time in prison for what could best be described as "unfettered assholity." In more recent stories, Yes has graciously donated time in the spotlight to the rest of the cast. We sat down near Yes to ask him some questions regarding this decision. "Yes, have you lost some of your edge?" "Does it, yes does does. It yes yes it," he replied. "Does this mean you hope to make a "comedic comeback," as you put it?" "It yes does yes does. It it it yes." "Are you happy with the performances of your compatriots?" "Does." The other cast members have generally and genuinely regarded Yes with high esteem. "Most of us have admired his penchant for pure insanity," Frank Stallone explained. "In some ways we've tried to emulate him, though rarely successfully. In fact, Tim went so far as to gather up all of his dead skin, hair, fingernail clippings and various other bodily sheddings to make himself a 'Yes-suit' to wear around. It didn't really work. He only gathered enough to make a pair of pants." With regards to the future of the series, Yes has ensured us that there's plenty of antics that haven't been seen yet and stories will continue for maybe a couple more episodes. He also wants us to know that he's got lots of money for anyone who keeps reading the stories. So stick around and open your wallets.
---
Friday, April 20th, 2007
---
5:50 pm
- 259. Letter to the Congressman
Yes it Does         Part CCLIX
Letter to the Congressman
---
April 29, 2024

The Right Honourable Congressman Lewis B. Schwelterbachen (R-UG)
5993 Rayburn House Office Building
Washingtonia, D.C. 29999

Dear Sir:

As members of the working class, we wish to express to you our extreme dissatisfaction with your inept performance in your official capacity. Time and time again you have proven yourself to be a failure at bringing to light the torturous conditions of your constituents. Therefore, we wish to submit to you an alternative tactic conveniently summed up in two words: something else. Whatever it is that you're currently doing, quit it.

In order to better serve us, we would like to suggest a strategy by which you would be guaranteed all of the press coverage that your heart desires. You could, of course, do this in any number of ways. We've decided that the best way to do this is to start spouting off some seriously crazy shit. Then let it happen over and over again. Nothing too offensive, however; you wouldn't want to be reprimanded. By carefully playing off of the media this way, you can come off as a lovable lunatic and all of the cameras and reporters will naturally flock to you. All of the talking heads on TV will lead into their broadcasts with you, while saying: "Well, folks, he's at it again!"

You will have to be fairly outrageous at least from time to time so they won't get bored with you. Of course, then you'll need to make sure that you mention the importance of affordable health care for the underprivileged. Don't forget to mention the children who are really the ones suffering because they don't have the means to take care of themselves. Also, carry around some pictures of them. This will always work sympathy to your favor, which, in turn, might rub off on the kids.

After you've done your charity, don't forget to scurry around the House office buildings and the Capitol building like a monkey. They'll be expecting you to do something like this and everyone will laugh. You should also say "this ain't no monkey business" right before you do that. Another good idea for you would be to handcuff yourself to the Chinese embassy building and demand that they tear down that wall they've got over there. Claim that it looks really divisive. This won't be taken very seriously, but it gets you more time with the spotlight where you can insist that it's a good cause. Every cable news program will want to have you on as a guest, further enabling you to promote your causes, no matter what they may be. You could advocate the banishment of French toast if you wanted.

The good news is if you get expelled from Congress or are defeated for reelection, Fox News will probably give you a show, where you can do all the crazy you want! You'll be a celebrity! Oh, and don't forget to promote the causes of the underprivileged while you're at it.

In this day and age of short video clips and YouTubeisms, you're going to need to use every instrument and opportunity at your disposal in order to get your message across. So get out there and act like a maniac. It's for the children.

Sincerely,
Finer Zordend,
Distel Googer &
Norkus Mockelcorkermeyer
---
Tuesday, April 10th, 2007
---
6:34 pm
- 258. Strangeness on a Train Part II
Yes it Does         Part CCLVIII
Strangeness on a Train Part II
---
After Man with Boobs's carcass was transported to the mortuary car of the train, Lawrence had Tim help him assemble all of the patrons from the four closest residential cars into the lounge car for an important discussion. "A couple of murders have occurred on this train this afternoon," Tim began. "It is our responsibility to find the guilty party before we arrive at our destination tonight. I'll open the floor now to anyone who wishes to speak." Everyone kind of stared at each other for a few minutes before The guy who always looks like he's taking a shit spoke up. "I did hear some jingling, like a set of keys or loose change, from someone running by my compartment. I believe they were running away from the lounge." "That's good," said Lawrence. "Why don't we have everyone empty their pockets and set the contents down on the floor in front of you." Everyone did as they were told. After careful inspection, Lawrence determined that only three people had jingling-sounding items in their pockets (everyone else had jangling items, which don't sound the same. Trust me.) The three suspects were now Yes, Matt, and the nerd (you). "I can vouch for you, the nerd (you), because you were in my room when the woman was murdered, and therefore you would also not have killed Man with Boobs because I don't think you would have wanted to after that." Lawrence studied Matt's face, and then Yes's face to see if either one would crack under the intense scrutiny. Sweat poured down their faces as they searched for anything other than Lawrence to fix their eyes on. "Okay. I know who did it," proclaimed B. Hemoth as he entered the room. "Here's what happened..." "Wait a minute! I was doing the summation!" Lawrence complained. B. Hemoth continued: "There is someone on this train who knew the first victim because they worked with her at an annual auto show. In fact, they struck up a pretty serious professional friendship with each other. Isn't this true, Mr. the nerd (you)?" "Umm...uhh....," he stammered. "And what was it that she did that really cheesed you off, hm? She sidelined the showing of a new car in favor of changing the venue to showcase other modes of transportation, such as this train we are riding on." "I didn't know that," said Lawrence. "And what about that car," B. Hemoth went on. "What possible stake did you have in having it promoted? Well let's take a look, shall we? We all know that you're a traveling salesman, which in this day and age is a dying profession, if it isn't already dead. So you wanted out. The Mortars Motors Corporation approached you through the auto show with a new concept of a traveling car salesman, and you saw this as your big break. But lo and behold, the new car was a piece of shit, and your friend at the auto show knew this and had no problem barring it from the show." "So what are you trying to say? That I killed her over that?" the nerd (you) stated. "Don't jump to conclusions," B. Hemoth said. "But that seems to be what you're concluding." "Well, yes, that is my conclusion. You did it. Cuff him, boys." Police officers who were apparently also in the room began to book him. "Wait a minute," Lawrence interjected, "how is that possible? We shared a compartment. There's no way he could have done it." "Well, if you had done any kind of detective work at all you would have known about the very long, doggy door-style passageway in the wall alongside the top bunk in each compartment, which allows for anyone to roll from the top bunk in one room to the top bunk in another. The nerd (you) simply rolled through quietly when you weren't looking and strangled her with one of his scarves." "That doesn't make any sense," Lawrence said. "But that's the way it is," B. Hemoth replied as he helped to put extra handcuffs on the very dangerous nerd (you). "That doesn't explain why Man with Boobs was murdered," Lawrence said. "Oh, he just happened to walk by the compartment while the nerd (you) was strangling that woman," B. Hemoth explained. "That's one place where he screwed up; he didn't make the door was closed. When he saw you interrogating him, his death became a foregone conclusion." "But when I talked with Man with Boobs he didn't mention it at all, and it only happened about 20 minutes earlier!" "Probably because you didn't ask specifically whether or not he witnessed the nerd (you) murder his compartment-mate. You have to do that." "Well I really screwed this thing up then," Lawrence admitted. "You sure did," B. Hemoth agreed. "In fact, we might as well arrest you as well. Put your hands behind your back." Lawrence hung his head in shame and let the police whisk him and the nerd (you) away. Upon being tried, the nerd (you) received a life sentence for the double homicide, and Lawrence got 10 years for his crappy investigation.
---
Friday, March 30th, 2007
---
6:43 pm
- 257. Strangeness on a Train Part I
Yes it Does         Part CCLVII
Strangeness on a Train Part I
---
Upon boarding the train, Lawrence found his assigned compartment. He had booked this cross-country trip via rail rather than by plane because he thought plane travel was really cramped. Unfortunately, his compartment turned out to be only slightly larger than a bunk bed that was fastened to the wall. As he began to organize his things on the lower bed while grumbling about having to share the room, a person stepped inside. "Oh, hi. I'm The Nerd (You)," the person said. "It looks like we'll be sharing this compartment. I hope you like sour milk, because I brought three gallons of it. It soothes my sinuses." "Great," replied Lawrence as he began to curl up in the mini-cavern that was his bed space. "I'm a traveling salesman," the nerd (you) went on. "I usually sell horseshoes and cottage cheese, but I have been selling playing cards instead this month. Would you like to play a game?" "No thanks," Lawrence said tersely as he dangled his feet over the side of the bed while slouching with his head against the wall. "So what do you do?" the nerd (you) asked him. "I sleep," Lawrence retorted. The nerd (you) gave up and tossed a duffelbag onto the top bunk and climbed up and plopped down on the mattress, sending a rain of dust and bits of foam onto Lawrence. As they rested for about five minutes, Lawrence wondered where the easiest place to jump off the train was. Suddenly, a muffled scream was heard coming from the other side of the wall. Lawrence sprung forward. "Did you hear that?" he asked. "Hear what?" the nerd (you) responded. Lawrence slid off the bed and exited the compartment and knocked on the door of the adjacent room. After knocking and waiting for a response, Lawrence tried the doorknob and found it unlocked so he entered. On the floor was the body of a woman with a long, white scarf tied very tightly around her neck. "Oh my God! Is she dead?" said the nerd (you) entering. "Probably," Lawrence replied. "Go find some people to help me." As the nerd (you) scurried to find some authority figures, Lawrence searched the compartment for evidence. He found several small pieces of mud that had obviously come loose from the treads of someone's sneakers, and he noticed that the woman was wearing sandals. The nerd (you) then came back with Tim, who was a porter with the train, and Matt, who was just some guy hanging around. "What happened?" Tim asked, kneeling down next to the body. "She's dead," Lawrence told him. "Did you do it?" he asked. "No," Lawrence replied. "But I sure want to find out who did." "We must have an investigation," Matt decreed. "You're right," Lawrence responded. "I will lead the inquiry. I once read a mystery novel so naturally I am equipped to handle the task." Everyone else agreed. Lawrence began by grabbing a pipe, monocle, and a magnifying glass he found lying on the floor and then used them inappropriately. Tim directed him towards the registry, which indicated who was to be the victim's compartment-mate. This person was named Man with Boobs and he was currently in the lounge section of the train boozing and schmoozing. "Excuse me, Mr. Boobs," Lawrence said upon approaching him. "Could I have a word with you, please?" "Absolutely," he replied as they broached the subject. "Your roommate was found dead on the floor in your compartment. Do you happened to know who did it?" "I don't believe I do," Man with Boobs explained, "you see I only met her the one time when we were storing our stuff in our compartment. I asked her if she wanted to have a drink with me here in the lounge, but I was rebuffed. I won't lie; the idea of murdering her after that did enter my mind, but I repressed it." "Did she tell you anything about herself?" "Only that she was from New Hampshire and that she was meeting a friend of hers on the train, but I don't know who." As Man with Boobs was talking, Lawrence sized him up, taking into account his revealing cleavage as well as the mismatched black loafer and white tennis shoe that he was wearing. "One last thing," said Lawrence. "Is there anyone else here who you've seen her have any contact with?" "Yeah, I did briefly see her getting on the train with some douchebag. And I think that douchebag was being carried by some really ugly guy. I'm sure you'll want to talk to him. Hey, there he is! He just left the car." "Thanks for the help," Lawrence said back to him as he headed towards the door the person had just exited through. Lawrence ran to catch up to the person who was already at the far end of the long corridor of the next car. "Excuse me, sir, but I'd like to talk to you. It's rather important." The person turned around. "Okay. What would you like to talk about? My name's Yourma, by the way." "Oh," said Lawrence disgustedly, but he continued anyway. "You were seen boarding the train with a woman who was recently murdered. Do you have anything to say about that?" Yourma pondered this for a moment while she chewed on a piece of stale toast that caused her mouth to become misshaped. "I didn't do it, if that's what you really want to know. I really only just carried some stuff of hers onto the train, but then she seemed really eager about us being friends. I hate having friends so I lied to her about wanting to see her later on just to spite her and get out of there. Honestly, if you want my opinion, I think her compartment-mate did her in. When I last saw her, that guy was trying to seduce her with some kind of array of winter accessories. What a loser!" "Thanks. I think you've really helped me out." Lawrence headed back to the lounge car to confront Man with Boobs, but the door leading into the car was jammed by something that had been pushed against the door. Lawrence shoved the door open just enough to slide his head inside. He looked to see what the hold up was and saw that it was the dead body of Man with Boobs.
---
Friday, March 16th, 2007
---
6:56 pm
- 256. The Top 100 Rules To Live By
Yes it Does         Part CCLVI
The Top 100 Rules To Live By
---
100. Start everything backwards.

99. Need a quick identity change? Grow a beard!!

98. Hold hands when crossing the street, and if you're alone, hold your own hand.

97. Don't eat foods that mix the color orange with the color magenta.

96. Announce all bad news on Fridays.

95. Chains can make cool belts.

94. Never be outside in red rain; it burns the skin.

93. Do whatever you want to your teeth. Just assume science will be able to take care of them in the future.

92. When pulled over for speeding, use an accent to get out of it.

91. Be nice to co-workers, but always talk about them behind their backs.

90. Nipple piercings serve no purpose.

89. Any given group of people can be ranked in order of greatness.

88. There are too many stretch pants in this world. Somebody needs to do something about that.

87. "Y" is not a vowel. Get over it.

86. Roman numerals are way better than Arabic numbers when counting in slow increments.

85. You can never spend too much time studying food labels.

84. Devote more of your time to helping the most fortunate among us because maybe they'll give you something.

83. Getting hit in the crotch is always funny. Plus, laughter is the best medicine, so one hand washes the other!

82. All things being equal, blame the dog.

81. Denial is not a river, asshole.

80. Expect the unexpected, but only the unexpected.

79. Stay out of the sun.

78. Be nice to animals. ALL animals. Which means stop cleaning your dishes and leave them in the sink for the bugs. They'll thank you for it.

77. Drink plenty of water every day. I'm not sure how much, so just make it a gallon and you should be safe.

76. Don't get too cozy with your friends because they're probably screwing each other behind your back.

75. Caramel can go on anything.

74. Moss looks cooler than grass so try to make a lawn out of it.

73. Computers and cars have one important similarity: they were built to fail on you.

72. The journey of a thousand miles begins with a single step onto an airplane.

71. Love is essential to anyone who believes that love is essential.

70. Quit pretending that you're out getting fresh air when all you're really doing is smoking weed.

69. Nobody really wants to be left alone. Except for me. Go away!

68. Wasting time is the true American pastime.

67. Stop and smell the flowers. This is a good way to check to see if you're allergic.

66. There's no point in going to bed before midnight, Mom.

65. Don't drink so much soda. Besides, beer is way better.

64. If people start to urinate in order to mark their territory, get out of there as fast as you can.

63. Warm milk is horrible.

62. No story is so important that it can't be reduced to a five-second soundbite.

61. If you start hearing voices in your head and have an urge to converse with them, just imagine you're talking to an invisible friend. This way you won't look too crazy.

60. Try to find a good use for a lot of old tires. In fact, I have some for you to help you get started.

59. In the future, try not to go blind because reading Braille looks like it'd be really hard.

58. Don't be buried when you die; be cremated. Then have people spread your ashes in a bunch of places and force them to put up memorials in each of those locations.

57. Always smile so no one will know when you're up to something.

56. A carefully planned day will always be carefully ruined.

55. A romantic relationship is based on honesty, so honestly tell her you don't want to be in a relationship.

54. Learn to play a bizarre instrument like a bassoon or a mellotron.

53. Tired of being ordinary? Start eating food off of the floor in public.

52. If you become annoyed by the noises your neighbor makes, respond by making even louder noises. This always works.

51. Don't get mad or get even; get stupid so you'll have forgotten the problem completely.

50. Out of condoms? Try a plastic grocery bag.

49. Don't be so obsessed over beauty. You're not that attractive anyway.

48. Be good to your siblings and celebrate quietly when they fail.

47. If you know you don't have much longer before you die, gather or have someone gather all of your most valued possessions and burn them so your family can't get their grubby little hands on them.

46. Plant a tree every day in your front yard. If you don't have a front yard, pick a stranger's at random.

45. Everyone is required to grow their hair long at least once in their life.

44. Whenever you're really stressed, knead some dough, but don't bother baking it.

43. Don't let a disembodied head ruin your dinner.

42. If you don't know any foreign languages, and even if you do, just make up some gibberish and talk with somebody in said gibberish while giggling and pointing at the people around you.

41. Take baths, not showers. You get wetter that way.

40. If you've attended a church for a long time and you don't like it anymore, don't quit it or go to another church because you will have wasted all that valuable worshiping time.

39. Chinchillas make good pets so get one of those. And even if they don't, I also hear they make good scarves.

38. Try to keep the conversations to a minimum while masturbating.

37. Eccentricity is no virtue in the presence of apathy.

36. If you have carpet installed along the sidewalk in front of your house, your house will become that much more welcoming and inviting.

35. Donuts are the only kind of breakfast you will ever need.

34. If you know when somebody hates you, you can say or do whatever you want around them and it won't change their opinion of you.

33. For God's sake, ladies, quit wearing bras.

32. Everyone must have at least three blogs and only write in one of them.

31. If you ever lose your voice, eat some peanut butter. It won't help your voice, but you won't notice because you're enjoying some peanut butter.

30. An apple a day keeps the doctor away. Especially when you hurl them at him.

29. Doing laundry is desirable but really not that necessary.

28. Before you consider having an abortion, you should really stop and think about what you'd be doing with all that spare time.

27. It is most important that you study American history, but do not learn from it.

26. Don't identify yourself as an Aries or a Capricorn or anything like that. Just say you're a moron and be done with it.

25. Laugh in the face of danger, but cower at the fist of danger.

24. Everyone should make their own home. If you don't know how, sticks and branches make good walls, don't they?

23. When you go to another country, don't learn the language. You're their guest!

22. It is your duty as a human being to look stupid on a regular basis.

21. Umbrellas are for wimps.

20. If you must do a job that you don't like, do it badly.

19. Get 10 hours of sleep every night. And don't get up until you do.

18. Try to experience what it would be like to not have any clothes by rubber banding a bunch of leaves to your body.

17. If you really want to help the environment, try eating some garbage because your body might be able to break something down.

16. Don't bother just saving your money. You'd just be letting it go to waste.

15. Try being ambitious in life. If you already are, quit showing off!

14. Don't turn the lights off when you leave a room because you might reenter it ten seconds later to get something you forgot.

13. Emulate someone you admire. If they're dead, emulate that too.

12. Be politically informed enough to hate all politicians. Then blame the system and refuse to vote.

11. Always be aware that your internet activity is being monitored.

10. Keep a log of all your daily activity, no matter how insignificant. This way if you do something wrong later, the police will be able to find out easier.

9. Don't rob people blind; give them some respect and rob them while they're looking.

8. From now on, love and sex are synonymous.

7. Always admit your mistakes, but you don't have to do it to the people you wronged.

6. Cherish the small things because you can't afford the big things.

5. Don't be fooled: spiders really are evil.

4. Don't bottle up your rage; we love seeing people go absolutely ballistic.

3. Love may be all you need, but money really helps out. Oh, and power too.

2. If you get reincarnated and have a choice as to what to be, be a bird or something because would you really want to do this whole person thing again?

1. Don't let anyone tell you how to live your life. Unless you're an idiot, then you should listen to me.
---
Monday, February 26th, 2007
---
9:12 pm
- 255. As You Were, By The Nurples
Yes it Does         Part CCLV
As You Were, By The Nurples
---
The death of Lyman made every attempt to record overly somber and difficult to work in, so they all decided to take a two-week break. Yes chose to spend his break in Vancouver, Canada because he was interested in an art show being held there. He was able to arrive unannounced and without any recognition that would otherwise bring about an uncomfortable amount of attention from the Nurples fans and other crazies. Quietly viewing the exhibits, Yes was quite impressed by the talented and blowharded avant-garde artists. As Yes observed a series of mutilated life-size wax figurines holding incandescent light bulbs, a person came up to him. "Hi," it said. "I'm Frank Stallone. I'm here to inspire you." Yes was immediately inspired. "I created this exhibit that you're looking at. Do you like it?" "Yes," said Yes. Frank did not seem to know who Yes was, which seemed to impress Yes. He invited Frank out to dinner, where they chatted about each other, and Yes revealed who he was. They became quite chummy with each other during the rest of Yes's two week excursion. By the time when Yes needed to get back to work, he decided to have Frank tag along back to the recording studio and sit in with the band. Tim, Mantus, Man with Boobs and Burren found this to be rather intrusive, but Yes insisted that Frank was his new muse and a muse for everyone else too. Tim, at least, was inspired: inspired to dunk Frank underwater and then hold it's head under. "Wait a minute," said Man with Boobs. "That's brilliant! Let's do an underwater concert!" Everyone was abuzz with excitement. This could be their first public performance in four years. Burren and Tim, who took the lead on this project began making arrangements with some harbor front managers to reserve some area along the shore. They also hired professional glass makers and designers to create a large submersible glass tank to go underwater and in which the band could be set up and perform in. While these tasks were being completed, the band rehearsed in a large, empty warehouse near the shoreline. They practiced a number of new songs they'd prepared for this performance and the subsequent album that would eventually be titled Descended From Water, which was also the name of one of Tim's songs. Some trouble brewed when they were playing on Yes's song "Arise, Yeast," where Tim insisted that Man with Boobs was flubbing the chords. "I know that the chords sound murky right now, Tim, but I'm trying to experiment. You don't have to keep annoying me about what's wrong or right." "You always say that I'm annoying you, Man," said Tim, "but you have to understand that we need you to get it right. I'm just telling you what you should be doing on this song. If you would just listen to me this wouldn't be as big a fuss as you're making it out as." Man with Boobs then stood up, tossed his guitar at Tim, and walked out of the building. "Does does it yes does it," said Yes to Tim. Frank Stallone immediately began to suck on Yes's ears. "I don't think that's helping either," said Mantus. Later they tried to convince Man with Boobs to come back, but he refused to return to the warehouse. This didn't matter anyway because the whole project was becoming too burdensome and Burren convinced Yes and Tim that the glass tank performance would be too problematic and really not very safe for the band to be in. Rather than let the whole thing go to waste, the band decided to rent one of those large, square party boats and perform some of the new songs while drifting aimlessly along the shoreline, all the while being recorded on sound and video devices. With Man with Boobs coming back for this performance, they received a significant amount of attention from passers-by and floaters-by who realized who they were and what they were doing. After about 45 minutes, the police drifted by and told them to stop because the commotion was beginning to impede regular naval traffic. After they returned to shore and returned all of their equipment to the studio, they still bickered over each others' songs. For example, Yes thought Mantus had too many artillery sounds in the background of his only song, titled "The No-Gunfire Salute." They ended up scrapping the album and would let someone else sort it out later on. About a month after they decided to abandon the Descended From Water project, Yes called Burren about doing a final decent piece of work. So they all gathered back in the studio to record another slew of songs for this album they would call As You Were, By The Nurples. Here are the lyrics to one of their last classic songs, titled "Unreleased Dove Sounds."

They ride face first down the carpeted steps
With 3 and 4 or 5 or 6 reps.
You watch their shoes crunching over beans.
You said you've seen this but you don't know what it means.

We walk around to the side of the car.
The windows aren't locked, but the doors still are.
The spare keys were lost as you had failed your deed.
Now we have to let the windows make our knuckles bleed.

I return from war while belching flames:
Reading their tombstones and forgetting your names,
Temperatures rise, flooding their senses.
Opens the doors to fix your fences, tenses, lenses, wences, genses???

Let free the sparks and let them roll and roll and roll and roll and burn and burn and burn and singe and singe and fade...

Cool down, cool down, cool down, coooooooool down...

The recording sessions for this album were surprisingly harmonious. The main reason for this was their unawareness of an impending financial crisis that was at their doorstep. When Lyman had died, the rest of the band and most of the management were unaware of a number of commitments, that were generally erotic in nature, that had gone unfulfilled. As a result, the band was forced to relinquish their earnings from this album in order to compensate for the breaking of various contracts. This combined with Frank Stallone's constant nursing off of Yes's nipples and other protrusions left a bitter taste in everyone's mouth. Especially Frank's. This all culminated up to Tim assembling a press conference to announce the following: "It has become plainly clear that everything we've wanted to accomplish as a group has been accomplished. Basically, I guess I'm saying that The Nurples are no more. It's not the big deal that I've heard people say that it is. We're just tired of each other and we've mutually come to the conclusion that we could do better separately. Thank you." And thus the curtain closed on The Nurples era. All the fans and reporters wept and tossed themselves off of tall buildings.
---
Wednesday, February 7th, 2007
---
6:51 pm
- 254. A New Year's Resolution
Yes it Does         Part CCLIV
A New Year's Resolution
---
At the first cast member meeting of the new year, Yes decided to begin a new ritual, which simply involved humiliating one random person at each meeting. For his first humiliatee, he chose Frank Stallone. Just before the meeting was set to begin, the rest of the cast was mingling with each other except for Frank, who was writing in his diary, and Yes, who was hurriedly plotting his "embarrass Frank" plot. As meeting time began to begin and the conversations died, Yes was forced to scramble for an idea and he settled on the first one he could think of. Lyman started off the meeting: "Happy New Year and welcome back everybody. I hope you all had a good break and are sufficiently rested to be treated like shit again. Before we begin handing out assignments, does anyone have anything they'd like to say?" Man with Boobs stood up. "Yes. I am proud to say that as of this year I will no longer be wearing ladies undergarments. I've decided it's time to move on, and I wanted to share with you all this decision." He bowed as the others gave him a rousing applause. Just at that moment, Frank Stallone's chair ejected him 35 feet across the room, causing him to slam his body into the wall and then collapse to the floor. The rest of the cast went into an uproar; hooting, hollering and otherwise appearing bemused at this spectacle. Yes then revealed himself to be the prankster, announcing: "Does does it. It!" Everyone cheered. "Even though you broke my arm," Frank said, "I have to admit that that was pretty clever." It was at that time that Tim came out of the closet, I mean, bathroom. He had missed the whole thing. "What happened? What'd I miss?" "I can't believe you missed it. It was great," explained Matt. "Frank was flung across the room!" "Dammit!" Tim shouted. "This always happens. I always miss out because I'm busy shitting. Well that's it! I'm done. I will never miss out again. In fact, at this moment I resolve never to shit again! It's such a waste of time." "What about urination?" asked Lyman. "You still gonna do that?" "Sure, why not. That's not as bad." The rest of the cast was in awe. The guy who always looks like he's taking a shit fainted at the idea of this courageous undertaking. Tim was confidant that he could conquer this problem once and for all, and prove to the world that no one could be forced to shit if they didn't want to. One week later when they were all gathered again for another scheduled meeting, Lyman, again presiding over the assemblage, immediately began by asking Tim about his current status. "I'm still going strong and I expect to be completely free of the brown problem in another week," he said proudly. Then, a hammer fell from the ceiling and clonked B. Hemoth on top of the head. Everyone burst out into laughter, pointing their fingers mockingly at him while Yes arose and took a bow. The rest of the meeting went as normal, and the cast began to work on their story assignments. Matt and Lawrence practiced making out with each other and with pigs, while Man with Boobs assembled a breadmaker. During the next two weeks, as everyone became more and more occupied by their duties, Tim's bowel status dropped from most of their minds. New exciting storylines were being drawn up for the year, opening new opportunities for everyone. Lyman began the meeting explaining who would be given the prime roles that everyone wanted. As it turns out, there wouldn't be any such roles because all of the foreseeable stories were going to suck. Everyone grunted and groaned. "Don't get so upset about this," Lyman went on. "Do the best you can and things will work out just fine. In fact, I'm busy winnowing out the crappiest roles and then rotating what's left amongst us so no one gets stuck in a rut." Suddenly, a large burst of water shot out from a fire hose in the wall and blasted Lawrence out of his chair and across the floor. The room erupted with laughter and rancor. Four weeks later, the stories were finally set to begin again, with the plotlines defined, roles studied, lines memorized, and all that other stuff. "Everything is set," began Lyman. "And before we start, does anyone have anything they'd like to say?" Tim rose from his seat to address the troupe. "As you may recall, about two months ago I made a resolution to never shit again, and I am proud to say that I've succeeded in proving that no one is a subject of the white throne. This is more than a personal achievement. This is a victory for all humanity!" The cast cheered. When Tim sat back down, everyone heard a 'pop' sound. Tim looked underneath his seat and found a cherry-bomb strapped underneath with the fuse burned all the way down. "Does!!!" exclaimed a furious Yes stomping up and down. He then ripped the cherry-bomb from the bottom of Tim's chair and pounded it on the table in rage, at which point it went off, blowing Yes's hand around the room in pieces. Everyone went into an uproar, laughing at him and his predicament. They were all on the floor with convulsive laughter. Then Tim's ass exploded.
---
Saturday, January 27th, 2007
---
9:46 pm
- Continuousness
A month has gone by since the last time, so I thought I should inform you that new stories are on the way fairly soon. I have a far clearer idea of what I am going to be writing about this year, which should hopefully mean that things will progress much quicker than before, but not necessarily. With what I have in mind, I believe that I'll have some rather interesting ideas for the series, and if not then you'll have every right to lash out at me with textual insults, rantings, ravings, spewed hatred and rotten apples that you will very likely throw at me (or, I suppose, your computer screen). I think we'll have fun, and if not, then I'll just say it was your fault.
Friday, December 22nd, 2006
---
5:59 pm
- Out Now. Talk Later.
As you've probably guessed, that's the end of this season, and 2007 will be number 7. It'll probably be about another month before I start again as I continue to accumulate some ideas for future story purposes. In total, I completed 16 stories in 2006, which is fine, but it wasn't quite as productive as I had hoped for. Given the narrow slots of time when I do spend time writing (which is during my lunch hour at work) it can be difficult, especially when I'm not compelled to write for a particular day. Or week. The ultimate future of Yes it Does is uncertain, but for now I want to keep producing stories fairly consistently and come up with some new ideas and innovate in whatever ways that I can to make it interesting. I hope you've had fun and keep coming back. Have a good Christmas holiday time period and see you again in 2007. Woop!

-Me
Monday, December 18th, 2006
---
9:35 pm
- 253. Matt Kills Everyone
Yes it Does         Part CCLIII
Matt Kills Everyone
---
It was a remarkable sight: dozens of TV cameras and reporters swarmed around Matt and his police escort as he was led into the court house in handcuffs. Crowds barraged him with taunts and banana peels. What was to ensue was widely considered to be the crime of the century at the moment. What had occurred over the past 30 days had fascinated the world as a man, in this case Matt, systematically bumped off each of his closest compatriots and co-workers. The trial lasted for about a week and culminated up to the moment when Matt was permitted to speak before the judge in a courtroom filled to capacity. Although Matt would clearly be found guilty, the judge, who in this case was the Honorable Grover Cleveland, thought it was in the best interests of sick curiosity to let Matt speak on his own behalf over what had happened.

"Mr. Matt," Judge Cleveland began. "It has been established that you are of reasonably sound mind to understand what has proceeded in this trial, as well as conscious, coherent, and rational enough to know what that implies. Having said that, I am presenting you with the opportunity to speak for yourself and inform us directly as to why you have psychologically justified the murder of ten of your co-workers. Do you wish to make such a statement?"

"Not really," he replied.

"What? You have to! That wouldn't make this much of a story."

"But I don't wanna."

"Please!! We'll be good!"

"Oh, fine, you baby. It all started on Halloween. B. Hemoth had decided to go out trick-or-treating, which I thought was ridiculous because he was 45-years-old. So I decided to pull a prank on him. I covered the floor of the studio with motor oil so when he came back there that evening he would slip and fall down and look stupid. So when he came back, he walked in and promptly slipped and fell on his back. After he fell, he looked up at me and said "You are such a jerk. I am so going to kill you." Naturally, I was shocked by this. So I ran out of the room and decided to get him before he got me. I found a block of wood with some nails poking out of it, so I thought that should work just fine. I ran back into the other room to B. Hemoth, who was still wriggling around on the greasy floor, and began jabbing the block at him. The problem was he was such a big guy that it took like an hour and a half before he finally stopped breathing. I'll admit that the block of wood was a pretty crappy instrument of death considering that we were in the tool room, but at the time I thought it was a good idea. After I finished him off I ran and hid and someone found him eventually. No one ever found out what really happened, so it wasn't a big deal for me. At the funeral three days later, I was seated next to Man with Boobs. That in itself is not a problem, but when a guy like him sits there for an hour constantly shifting his man-cleavage around, how much can one person take? Not much, that's what. He just bothered me so much. I believed at that point that I should concoct a plan to get him. Like B. Hemoth, I didn't plan to kill him, I just wanted to maim him a little. All sorts of ideas entered my mind, like poisoning his morning laxative or hanging sharp blades over his head. That all seemed like too much more effort than I was willing to employ, so I just pushed him in front of a bus after the services ended. Surprisingly, he ended up dying. After we found out that he had been pronounced dead the next day, Lawrence came up to me and said something about it, like how he saw me push him and how I strolled away from his mangled carcass rather than run to him or call for help or react in any way. Lawrence's confrontation freaked me out, so I quickly scrambled around for a nearby blunt object, but I could only find a gerbil. So I leaped on top of him, crammed the gerbil down his throat and shouted: "Why don't you try some fur in your mouth, you bastard!" I really regret saying that; it was such a stupid thing to say. But, what's done is done, I suppose. I tossed his body into the trunk of Tim's car since I didn't think anyone would ever look there, but of course Frank Stallone did. Before anyone else would notice, I pushed him into the trunk with Lawrence's body, shut it, and locked it. He was shouting and banging stuff around in there for a while before I asked Tim if I could borrow his car. When he let me, I just drove the car into some nearby woods and left it there. Frank ended up dying from something, I don't know what though. When I got back to the studio that we were all apparently living in, things seemed to settle down. For about a week nothing happened, until Tim started asking all sorts of lame questions, like "hey, where's my car," and "didn't you borrow my car last week," and "what did you do with my car?" This was just really annoying to me, so I did what anyone would do in this situation: I poured kerosene over him and lit him on fire. Well, that just opened up the floodgates and he began shouting out more lame stuff like: "Ahh, ahh, I'm on fire!" and "why did you do this," and "this really hurts." Several minutes later he calmed down and just let the fire consume him. I eventually put Tim's smoldering corpse into a large, black, plastic garbage bag and then double-bagged it because I just knew he was going to be stinky, and, honestly, he already kind of was. I decided to toss the bag into the dumpster out behind the studio, where the garbage truck would come on Tuesday morning. Unfortunately, I forgot that every Monday night Yourma would wade in the garbage and scavenge for "leftovers." I decided to toss in a smoke bomb while she was in the dumpster to smoke her out of there. However, I ended up throwing in a regular bomb and sent her and the dumpster sky high in an impressive explosion. The noise caused Lyman and the nerd (you) to come running out. When they decided they should call the police, I decided to off them too since I knew the police would find Yourma's body and probably figure out what happened. The problem for me upon deciding this was that I said I was going to kill them out loud, so they ran back into the studio and locked all the doors and began screaming. Luckily, I remembered that I had grabbed a bunch of extra bombs for the dumpster that I had thought were smoke bombs. So I set them up around the building, hid behind some trees in the distance, and watched the whole place blow. At that moment I realized that I accidentally knocked off the guy who always looks like he's taking a shit as well because he was in the bathroom reading magazines. As I began to plan my move into hiding somewhere, Yes came back from vacation and asked me what happened. When I told him the whole story, he became intrigued. He wanted to take credit for my kills. I couldn't believe his audacity! So I beat his face in with some rocks. As I hammered at him, several police cars showed up. Apparently Lyman had managed to make the call. So they brought me in, and as you can see, it really wasn't that big of a deal."

"That is an amazing story," said the judge. "And now that I must bestow the punishment onto you, it has been decided that you should write a 700-word essay explaining how you can do a better job telling your stories. I practically fell asleep! That is all." And he banged the gavel.
---
Thursday, November 30th, 2006
---
8:40 pm
- 252. The Nurples Are The Electronic Scale-Model Toy Police Car Builders
Yes it Does          Part CCLII
The Nurples Are The Electronic Scale-Model Toy Police Car Builders
---
Tinkering around on their instruments and other sound-producing devices during another in-studio session, The Nurples were gathered with Burren to lay down some more tracks for another song to be released as a single. It was another one of Tim's songs, this one titled "Ornery Whistlecats." "Obviously," Tim said, "this will require much background whistling. I have it all laid out on this tickertape." "Does yes it. It does yes. Does," complained Yes. "It is not stupid or revolting. It's a tight composition that off-sets your B-side crapfest." The exchange nearly came to blows until Mantus handed each of them some already lit weed, which immediately calmed them. "Ahh, that's better," choked Tim as he swallowed some puffs. The band became hooked on smoking weeds during a session at Man with Boobs's house where they decided on a whim to just go out into the yard and pick some crabgrass, dandelions, and other weed-like plants and just start smoking them. It wasn't very good, but after 40 or 50 tries they couldn't get enough. This has generally helped relieve some of the tension within the band, but Burren and manager Lyman decided to arrange a long, three-week trip for them to some random country in the Middle East as a way of helping to ease things between them. This vacation would take place immediately. When the group actually arrived in that general area, they were greeted by a few cheering throngs of people. They were quickly escorted into a local palace, where they would begin their cultural tour. A significant portion of this tour involved them being exposed to some intense religious indoctrination, which included burning piles of weeds (much to their enjoyment), popping sheets of bubble wrap, and handling dangerous electric eels. While these activities, along with the sermons, were fairly interesting by themselves, the band members became more interested in sniffing the glue and other adhesives they found after discovering the High Holy Supply Closet. The entire experience ended up being greatly inspirational for the band members, but not for the band crew members who were on the receiving end of some rather annoying pranks pulled by a very frisky and very intoxicated Tim. Upon returning home, they decided to begin experimenting with sound effects in some of their songs, much to Burren's delight. He had felt that they had lost much of their edge and needed to expand their frontiers. The first song they produced in this effect, called "Somber Rubber Numbers," was something of a flop, but then they produced a masterpiece entitled "A Grove of Windstorms." These are the lyrics they came up with:

Bright purple windstorm blows around the orange fluorescent leaves.
Ferocious red ice pelts the eyes in the face and the arms up the sleeves.
Swirled away butter smear the bark on the trunk of the cantaloupe trees.
Savor the taste of the race in case the tufts out-flutter the sulfurous breeze.

Bring back the sights and the sounds and the frothy blue dreams,
Give out the plans,
Showcase the brands,
And tell them what they will receive.

Red leather plaster simmer in the desert,
Groveling dogs put the skeletons at bay,
Move on, move on, the writing yellow natters,
Let all the kiddies roll their fingertips away.

I'm frying.
They're prying.

Bring back the sights and the sounds and the frothy blue dreams,
Give out the plans,
Showcase the brands,
And tell them what they will receive.

In the purple pages of yesterday's news,
I read the milestone of optimal youth.
Gone was the dripping passage.
His face plastered clear on message.
Never aged in 30 years.
Oh, tell me how to navigate to your amazing, never-phasing shoes.

I've done it.

Bring back the sights and the sounds and the frothy blue dreams,
Give out the plans,
Showcase the brands,
And tell them what they will receive.

Tfig a s'ti.
Tuowolb a tahw.

Og ot yaw, siht daer nac uoy fi!

They decided to put this song on a new album. Tim had been working on a title for it, and Burren thought that his excessively lengthy track entitled "The Electronic Scale-Model Toy Police Car Builders" would be more than goofy enough to make an appropriate title. Yes thought it would be a good idea to create the album cover to look like a miniature race track and have some toy action figures superimposed onto the cover and make it look like they're arresting the Nurples, who would be dressed up like policemen. The album ended up being quite controversial due to many allegorical claims of drug use and the encouragement of drug use. The band vehemently denied this and said that they had never breathed in anything illegal except whenever they rehearsed and recorded their music each day. In spite of the bad publicity that the media seemed to insist on reporting, the band's popularity never subsided. This album became the best selling album of all time up to that point. While their public relations were well taken care of, strife between the bandmates was still strained on occasion. This was emphasized when Yes did a TV interview and referred to Mantus as an "it," Man with Boobs as a "does," and Tim as an "it does." The moment when Yes came back to the studio, Mantus immediately walked out and Tim began screaming at Yes, saying he had no right to say those things about the rest of the band. Yes was not about to back down. He defended himself first by protecting his genitals with one hand then randomly swinging the other one at Tim. Tim responded by doing the same. It was a real flail-fest. It started to get a little bloody when Burren came down from the studio booth to interrupt them. He informed the two of them, as well as Man with Boobs, who was still in the vicinity, that Lyman had died. Apparently what had happened was Lyman was screwing in a light bulb when he accidentally jumped through a nearby window, falling three stories and landing on a pack of ravenous dogs. Although this was a horrible tragedy, they still thought it was kind of funny.
---
Tuesday, October 10th, 2006
---
7:50 pm
- 251. Biography Spotlight: The Guy Who Always Looks Like He's Taking a Shit
Yes it Does           Part CCLI
Biography Spotlight: The Guy Who Always Looks Like He's Taking a Shit
---
Birth: The guy who always looks like he's taking a shit's real name is Preserved Nectar Paramithian. He was born on June 1, 1973 and again on March 12, 1976 to a very sophisticated lemur in the Burmese jungle.

Family: The guy who always looks like he's taking a shit has a sister, Eubella, who always looks like she's about to vomit, and a brother, Cervix, who constantly looks like he's ejaculating. Their father, Farfel, a former Delaware congressman, died of conjunctivitis in 2004.

Biggest Regret: Accidentally sleeping with a walrus, who was, at the time, dating Yes.

Favorites: Food- soiled newspaper
Yes it Does™ Character- Man with Boobs
Canadian Prime Minister- Wilfred Laurier
Scent- Bleach mixed with ammonia

Relations with Other Characters: Yourma- Normal.
Matt- Strange in that whenever they're around each other, one of them is wet.
Lyman- Pleasant, until Lyman refused to let him use his private bathroom.
Yes it Does- Fantastic for no apparent reason.

Other:
The guy who always looks like it's taking a shit made his episodal debut in #191: The Title. At times he can be quite sensitive as to the reasons over his fixed facial expressions. A nine-year bout with uncontrollable diarrhea is the primary factor. "More or less, I wish I were known more appropriately as 'The guy who always looks like he's trying to keep from taking a shit,' because, really, I'm doing the best I can to stop it," he said, summing up the situation. Fortunately, a wide variety of plugging methods have allowed him to keep the problem from creeping up on him again. Veteran cast member Tim had a few things to say about The guy who always looks like he's taking a shit, who is still a relative newbie to the series: "The guy who always looks like he's taking a shit hasn't had too much to do to test his mettle, so he frequently appears to be rather loserish in nature. You didn't hear this from me, but we all think he's weird, so we often "forget" to mention the cast parties and character probing forums to him. He brings the place down." After we told The guy who always looks like he's taking a shit what Tim said, he replied: "Oh, Tim and I are always joking around. Like that time he made me smoke a pack of fire crackers disguised as cigarettes. What a joker!"
---
Sunday, October 1st, 2006
---
10:55 pm
- Commemoration
This entry, if I had posted it two weeks ago, marks one year since I began reposting all of these goofy stories. To commemorate that, here is a full list of the first 250.

1. The Beginning
2. Class
3. Mr. President
4. The Spitting Lesson
5. Yes it Does Meets No it Doesn't
6. Time Interference Part I
7. Time Interference Part II
8. Time Interference Part III
9. Time Interference Part IV
10. Time Interference Part V
11. Time Interference Part VI
12. Time Interference Part VII
13. Time Interference Part VIII
14. Please Nibble My Bones
15. Why I'm Afraid of Peas
16. The Snowblower
17. The Family Reunion
18. Building a House
19. Fill Up the Gongi
20. The Birthday
21. Hiking Mt. Everest
22. The Return to Chuck E. Cheeses
23. Finger-Nailing a Board
24. The Toilet Plunger
25. Frozen Food Sections
26. Get Kicked
27. Yes Shrinks
28. Gas
29. Dill Pickles
30. Walk Like an Injun
31. It's Funny If You Understand
32. Yes and the Chocolate Factory
33. He Said As He Was "A Hangin'"
34. Time Interference II Part I
35. Time Interference II Part II
36. Time Interference II Part III
37. Time Interference II Part IV
38. Time Interference II Part V
39. Time Interference II Part VI
40. Yes's 193rd Wedding Anniversary
41. Nuggets
42. Water
43.
44. Yes Draws
45. Knocker Returns
46. Fame
47. Yes Gets Abducted (Finally)
48. Yes Goes to School
49. Yes the Neurosurgeon
50. The Actual Retail Price
51. Bind
52. Yes Tours New York
53. A
54. The Flocking of No it Doesn't
55. Just Chew
56. Halloween
57. The Werewolf of Yes's Hair
58. Yes Flies the President From New York to Chicago Going East
59. Yes is Peter Pan
60. Yes is a Newspaper Publisher
61. This is Just One Big Picture
62. Just Stuff That Yes Eats
63. The Gathering
64. Yes is in the Hospital
65. The Top 10 Reasons Why Yes is Better Than Tim
66. Star Wars
67. Yes Grows Big
68. So What if Tim Stinks
69. Now Moo is in Charge
70. Baby Sister Kelly Really Tinkles
71. Yes Acts Strange for Once
72. Tim & Matt's Stories
73. Clones
74. The Job Interview
75. Yes Dies All the Time in This One
76. Yes and his Clones
77. Yes is on the Barney Show
78. Yes's Ghost in the Machine
79. Yes's Profession
80. Yes's Pets
81. Yes is a Cowboy
82. Washington Visit
83. Imitation A**bumps
84. Yes Teaches Math
85. The F*****g Swearing One
86. The Boy Who Cried Idiot
87. What Yes Does on Holidays
88. A List of Yes's Recorded Songs
89. Tum-T-Tum-Tum-Tums
90. The Top 10 Reasons Why Yes and Tim Have Enjoyed Grey Flags From Pakistan but Not to Get Confused With the Actual Reality of Real Realness
91. Christmas (Are You Happy Now)
92. Candy
93. Yes Meets the Simpsons
94. The Empire Strikes Back
95. Yes it Does Meets Maybe it Will
96. Followups to 7 Previous Stories
97. The Resurrection of Cootie Bananaman
98. The Return of the Resurrection of the Cootie Bananamen
99. Tickle Me Frank Stallone
100. The Video Daily Double
101. The Top 10 New Slogans for Oscar Meyer Weiners
102. Court
103. Court Continued
104. More Court
105. Still More Court
106. Even More Court Than Before
107. More and More Court
108. More and More and More Court
109. More and More and More and More Court
110. So Much More Court That It's Unbearable
111. How Much More Court Can We Take
112. So Much Court That I'm Going to Have to Ask You to Leave
113. More and More and More and More and More Court
114. Damn, That's a Lot of Court
115. That's Enough Court, Already
116. More and More and More and More and More and More Court (The Verdict)
117. The New Guy
118. Mr. Clean, Mr. Gay
119. How Stinky
120. The Rules for the Stories Hereafter
121. It's the Great Retard, Charlie Brown
122. The Great Retard Writes
123. E Greatius Retardum
124. Donne-Moi le Great Retard
125. Volkerschlat-Great-Retard-Kraftwerk
126. Guess What.......Court's Back
127. How Dum Are He (With Antonyms)
128. The Excitement of Time Sequences
129. The Titanic Spoof
130. The Second Season Finale
131. If Tim Was Clinton
132. The Top 10 Things Tim Has Said to His Life Partners
133. Tim & Mark Decrease in Size
134. The News Broadcast
135. A Visit from Pim, the Timp - Plimp, No, Spl-- Oh S**t
136. Marktha Stewart
137. The 137th Episode Spectacular
138. The Press Conference
139. Yes Hosts Saturday Night Live
140. A Day at the Food Production Plant (Unsanitized)
141. How About Another Newspaper Article
142. Return of the Jedi
143. The Campaign: Does vs. Stallone Part I
144. The Campaign: Does Debates Stallone Part II
145. The Campaign: Does Competes with Stallone Part III
146. The Campaign: Election Day (Thank Goodness it's Done)
147. A Mockery of the McLaughlin Group
148. Yes's Childhood Trauma
149. Yes's Soap Opera
150. The Category is "Pimps"
151. Some Story Where No Words Are Used More Than Once
152. Yes it Does for Dummies
153. Dick & Jane & Yes
154. A Day in the Life of the Characters
155. Making Fun of Us
156. Ghostly Presidential Visitations
157. Yes Degrades Disney
158. Lyman Invents a Useful Device
159. Yes's Fantasy World the 1st
160. Yes's Fantasy World the 2nd
161. Attack of the Body Gropers
162. Dr. Stallone and Mr. Lyman
163. Soylent Tim
164. Mary Shelley's Frankenstallone
165. The Cravin'
166. AR: The A**-Grabbin' Robot
167. Men in Light Brown, But Not Quite Tan
168. The Damnityville Horror
169. Grossbusters
170. Gayliens
171. Yes it Does Bloopers & Goof-Ups
172. Applicants for a New Character
173. Yes it Does Language Equivalency
174. The P.I.
175. The P.I. Part II
176. The P.I. Part III
177. Exploration of Loch Ness
178. Yes & Dancing
179. Lyman the Comedian
180. Yes Gets Randomly Married
181. 3001.5: A Space Idiocy
182. Old Age Yes it Does Stars
183. The Complaint Department
184. What Tim Would Do at Various World Events
185. Obscure Movie Titles
186. Yes Goes in for Surgery
187. The Yes it Does Guide to Fine Dining
188. The Dumbest Ending
189. 4th Season Opener
190. The Miscellaneous Trivia Challenge
191. The Title
192. Yes Works in a Slaughter House
193. The Top 10 Qualification Requirements for Becoming a Cast Member
194. The P.I. on Assignment
195. The P.I. on Assignment Part II
196. Warning Labels
197. Lyman Joins a Cult
198. Yes Runs a Business
199. The Story Whose Title I Don't Care to Mention
200. The Secret Square Is...
201. Biography Spotlight: Frank Stallone
202. A Future Story
203. Plans for the Next Millennium
204. The Late Show
205. The Adventures of Jim, Castle & Ba
206. Biography Spotlight: B. Hemoth
207. Take-Off of Whose Line is it Anyway
208. The Phantom Menace
209. The Minutes from the Latest Yes it Does Club Meeting
210. The Chemistry Experiment
211. Biography Spotlight: Lyman
212. From International Disagreements to Global Annihilation Part I
213. From International Disagreements to Global Annihilation Part II
214. From International Disagreements to Global Annihilation Part III
215. From International Disagreements to Global Annihilation Part IV
216. From International Disagreements to Global Annihilation Part V
217. From International Disagreements to Global Annihilation Part VI
218. From International Disagreements to Global Annihilation Part VII
219. Biography Spotlight: Man with Boobs
220. The Art of Useless Essay Writing
221. Real Yes it Does™ LIVE!
222. The Special that is the 222nd Story Part I
223. The Special that is the 222nd Story Part II
224. Campaign 2000 Candidate Spectacular/Democratic Election Super Happy Election Blowout
225. Biography Spotlight: Matt
226. A Lyman Suggestion
227. The Top 10 Uses for an Old 'Yes it Does' Story
228. Yes it Does™ the Play
229. Focus on Entertainment
230. Biography Spotlight: Lawrence the Gay Fag
231. The P.I. on Vacation
232. The P.I. on Vacation Part II
233. The Message Board
234. Critical Analysis: A Run-Down of the Years
235. Biography Spotlight: Tim
236. Characters on Strike Part I
237. Your Link is Weakest So Get the Hell Out!
238. The Resurrection
239. Discovered: Life on Mars
240. I Buried Yes
241. Wagon Train
242. Effigy Combat Symphony
243. Biography Spotlight: Yourma
244. Croquet: A Saga in America's Newest Pasttime
245. Ballistic Missile Defense Over Dinner
246. The Debut of The Nurples
247. Lyman's Faster Food
248. At Last In Atlantis
249. Nurplemania!
250. The Yes it Does Humor Tutorial

The fun part comes next.
Saturday, September 16th, 2006
---
12:13 pm
- 250. The Yes it Does Humor Tutorial
Yes it Does            Part CCL
The Yes it Does Humor Tutorial
---
Before we begin, I would like to thank my thousands and thousands of loyal, devoted and beautiful readers who have made getting to a 250th story possible. Well, I suppose that's not really true since I did all the writing and thought up all of the ideas and such, but anyway the point is made. Rather than do my usual written song and dance I will use this grand opportunity to tell you what humor is, how I use it, and why you're wrong not to laugh at it. For example, while I was thinking up a title for this story a number of possibilities came to mind. First, there were the plain titles like "The Yes it Does Guide to Funnyness," "The Yes it Does Manual on Laughter," and "The Yes it Does Guide on How to Laugh." Then, a few titles that were angrier and more adamant like "The Yes it Does Guide to What is So Goddamn Funny," and "Yes it Does Tells You What's Funny," and "Yes it Does Insists That You Laugh At This." Then a couple of titles that sound more desperate like "Yes it Does Tries to Say Something Funny" and "Yes it Does Attempts to Make You Laugh." After that I tried a few titles that were more pathetic and self-effacing like "Yes it Does Stops Pretending" and "Yes it Does Goes For Broke." Finally, I came up with a couple of more preemptively defensive title ideas, which were "Yes it Does Doesn't Think You're Funny Either" and "Yes it Does Pisses in the Wind and Sees Where it Lands." Ultimately, I went with a plain title and the first one I thought of, which does the job just fine.

An important part of the stories have been the characters, who have allowed the all-important "action," or "plot," to take place most of the time. While you can easily go read their individual Biography Spotlights I've so conveniently spaced out over the last 50 stories, I will provide you with a brief overview of who these characters are:
Yes: The namesake of the stories, obviously, he can only say the three words in his name, if you haven't noticed by now. His job is basically to be as weird as possible, although this has lessened recently. While he may not show up in every story, when he does he is generally the leader of whatever happens in the story.

Tim: Tim often takes (usually willingly) most of the disgusting tasks in the stories. A strong stomach and a great fondness for bizarre edibles permits him to eat and/or chew a wide variety of crazy things and people. He is a story regular and a staple of the series.

Lyman: Lyman is the most innovative, perhaps most inventive character in the series. Although he is often relegated to sidekick status, especially towards Yes, he has made many per-story contributions. This combined with his androgynous sexual dalliances make him indispensable to the series.

Frank Stallone: Often confused for being a woman, Frank may be the most misunderstood and least known among the regular cast. He's also incredibly dumb, which makes him essential to the cast if only to make the others look better.

B. Hemoth: The fattest cast member, B. is a rude, brutish, oversexed blob who often adds nothing to a story. He is usually ancillary and brings only some comic relief to the table. But don't tell him that. He's also a meanie.

Lawrence: The only actual gay cast member, Lawrence used to be known as Lawrence the Gay Fag, but he changed his name last year when he found out "fag" meant "cigarette" in England. Lawrence is also a comic relief character who usually contributes acts of a humorous sexual nature.

Matt: Usually doofusy in nature, Matt is unfairly looked down on by some of the other cast members. Probably the hardest working of the group, he will always be the one to take a shitty task, regardless of whether or not it involves actual human shit. Also, when death is a part of a story, he's usually the first one to be KO'd.

Yourma: She's a girl. She probably wants to get out of the stories, but she can't quite make it because we need her here. She's the best paid cast member because she has to put up with the most. Plus, Yourma is hot so we're not letting her go anywhere.

Man with Boobs: We needed a guy with boobs and this moron showed up so here he is.

The guy who always looks like he's taking a shit: He's got a goofy long name. What else could you ask for?
These are the 10 regularly used individuals. The rest of the people I use are occasional idiots that are used from time to time and I won't bother mentioning who they are. Go find'em for yourself!
Quite often these characters will be doing something silly, which is a significant source for humor. Randomness is also an important, often crucial, source of humor and will frequently go hand-in-hand with the silliness factor. This is funny for a couple of reasons:
1. It's unexpected
2. It's the kind of thing you wouldn't normally do or say in a given situation, but in this case it's said or done
3. Somebody's being stupid and that's funny anyway.
When this silliness/randomness is put in the context of a common (or at least mentally conceivable) situation, it should allow you to picture the strange activity, or what have you, and understand the humor. Playing with words and unusual juxtapositions are also important humor elements in this series. For example, just now I was about to write "Playing with words and unusual juxtapositions are also important and impotent humor elements..." This toying with similar sounding words is a fun little tactic I like to use even if it really doesn't serve any purpose other than for just a quick giggle. Other quick quips I enjoy using are sarcastic bites and mistruths that you, the reader, should be able to easily pick up on. For example, if I were to passingly refer to a doctoral thesis by George W. Bush, I wouldn't need to emphasize the ludicrousness of the idea because you should already know that George W. is dopey, or at the very least, not a doctor. Although, exploring what a George W. Bush doctoral dissertation would be like might be an interesting idea by itself.
Before I end this "story," I must mention my every 50th story tradition of having Yes speak something understandable, that is to say, using any words he wishes rather than the normal "yes," "it," and "does." So I asked him what he'd like to say to you now, and he said: "I ain't got nothin' to say to you, you dorky sonovabitch! So go kiss my furry, red ass!" Oh well. I guess we'll have to wait to number 300 for something substantive. So I'll see you then!
---
---